Flathead Engine Numbers: 1958-1968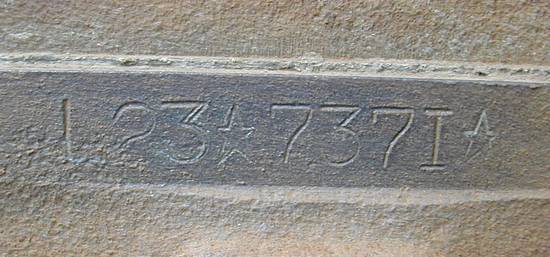 Chrysler used the letters D, P, C, S, and T to start the engine numbers up until 1957. Starting in 1958, for the Dodge Trucks at least, the engine numbers followed a different pattern. The first list below is what the parts books claim the numbering system should be. The second list is the numbers that have been found on actual trucks.
The list below is all the Engineering codes for each model of Dodge Truck that could be found at the time this list was made. The Engineering code is normally the code that is used as the beginning of the engine number on these vehicles. Most of these codes will be followed by a sequential number that would help calculate when the engine was made if a list of starting numbers was available. These codes are in order by first letter, and then numeric order, not by year, or type of vehicle.
| | | | | | |
| --- | --- | --- | --- | --- | --- |
| Engineering code | Displacement | Length of head | Make | Model | Year |
| L6D1 | 230ci | 23 Inches | Dodge Truck | D100 | 1958 |
| L6D2 | 230ci | 23 Inches | Dodge Truck | D200 | 1958 |
| L6D3 | 230ci | 23 Inches | Dodge Truck | D300 | 1958 |
| L6D4 | 251ci | 25 Inches | Dodge Truck | D400 | 1958 |
| L6D5 | 251ci | 25 Inches | Dodge Truck | D500 | 1958 |
| L6D6 | 265ci | 25 Inches | Dodge Truck | D600 | 1958 |
| L6W1 | 230ci | 23 Inches | Dodge Truck | W100 | 1958 |
| L6W2 | 230ci | 23 Inches | Dodge Truck | W200 | 1958 |
| L6W3 | 251ci | 25 Inches | Dodge Truck | W300 | 1958 |
| L6WM3 | 230ci | 23 Inches | Dodge Truck | W300M | 1958 |
| L6W5 | 265ci | 25 Inches | Dodge Truck | W500 | 1958 |
| L6S4 | 251ci | 25 Inches | Dodge Truck | S400 | 1958 |
| L6S5 | 251ci | 25 Inches | Dodge Truck | S500 | 1958 |
| L6S6 | 265ci | 25 Inches | Dodge Truck | S600 | 1958 |
| L6P3 | 230ci | 23 Inches | Dodge Truck | P300 | 1958 |
| L6P4 | 230ci | 23 Inches | Dodge Truck | P400 | 1958 |
| M6D1 | 230ci | 23 Inches | Dodge Truck | D100 | 1959 |
| M6D2 | 230ci | 23 Inches | Dodge Truck | D200 | 1959 |
| M6D3 | 230ci | 23 Inches | Dodge Truck | D300 | 1959 |
| M6D4 | 251ci | 25 Inches | Dodge Truck | D400 | 1959 |
| M6D5 | 251ci | 25 Inches | Dodge Truck | D500 | 1959 |
| M6D6 | 265ci | 25 Inches | Dodge Truck | D600 | 1959 |
| M6W1 | 230ci | 23 Inches | Dodge Truck | W100 | 1959 |
| M6W2 | 230ci | 23 Inches | Dodge Truck | W200 | 1959 |
| M6W3 | 251ci | 25 Inches | Dodge Truck | W300 | 1958 |
| M6WM3 | 230ci | 23 Inches | Dodge Truck | W300M | 1958 |
| M6W5 | 265ci | 25 Inches | Dodge Truck | W500 | 1959 |
| M6S4 | 251ci | 25 Inches | Dodge Truck | S400 | 1959 |
| M6S5 | 251ci | 25 Inches | Dodge Truck | S500 | 1959 |
| M6S6 | 265ci | 25 Inches | Dodge Truck | S600 | 1959 |
| M6P3 | 230ci | 23 Inches | Dodge Truck | P300 | 1959 |
| M6P4 | 230ci | 23 Inches | Dodge Truck | P400 | 1959 |
| TP23 | 230ci | 23 Inches | Dodge Truck | D100, D200, D300, W100, W200, P300, P400, WM300 | 1960 |
| TP25 | 251ci | 25 Inches | Dodge Truck | W300, D400, D500, S400, S500 | 1960 |
| TP26 | 265ci | 25 Inches | Dodge Truck | W500, D600, S600 | 1960 |
| TR25 | 251ci | 25 Inches | Dodge Truck | W300, WM300, D400, P400, S400, D500, S500, W500 | 1961 |
| TR26 | 265ci | 25 Inches | Dodge Truck | | 1961 |
| TS25 | 251ci | 25 Inches | Dodge Truck | W300, WM300, D400, P400, S400, D500, S500, W500 | 1962 |
| TS26 | 265ci | 25 Inches | Dodge Truck | | 1962 |
| TT-25-8-3 | 251ci | 25 inches | Dodge Truck | WM300 | 1963 |
| VT-25-8-3 | 251ci | 25 inches | Dodge Truck | WM300 | 1964 |
| AT-25-8-3 | 251ci | 25 inches | Dodge Truck | WM300 | 1965 |
| BT-25-8-3 | 251ci | 25 inches | Dodge Truck | WM300 | 1966 |
| CT-25-8-3 | 251ci | 25 inches | Dodge Truck | WM300 | 1967 |
| DW25121880000 | 251ci | 25 inches | Dodge Truck | WM300 | 1968 |
| | | | | | |
| --- | --- | --- | --- | --- | --- |
| Engineering code | Displacement | Length of head | Make | Model | Year |
| L23 or L230 | 230ci | 23 Inches | Dodge Truck | D100, D200, D300, W100, W200, P300, P400, W300M | 1958 |
| L25 or L251 | 251ci | 25 Inches | Dodge Truck | W300, D400, D500, S400, S500 | 1958 |
| L26 or L265 | 265ci | 25 Inches | Dodge Truck | W500, D600, S600 | 1958 |
| M23 or M230 | 230ci | 23 Inches | Dodge Truck | D100, D200, D300, W100, W200, P300, P400, W300M | 1959 |
| M25 or M251 | 251ci | 25 Inches | Dodge Truck | W300, D400, D500, S400, S500 | 1959 |
| M26 or M265 | 265ci | 25 Inches | Dodge Truck | W500, D600, S600 | 1959 |
| TP23 | 230ci | 23 Inches | Dodge Truck | D100, D200, D300, W100, W200, P300, P400, WM300 | 1960 |
| TP25 | 251ci | 25 Inches | Dodge Truck | W300, D400, D500, S400, S500 | 1960 |
| TP26 | 265ci | 25 Inches | Dodge Truck | W500, D600, S600 | 1960 |
| R25 | 251ci | 25 Inches | Dodge Truck | W300, WM300, D400, P400, S400, D500, S500, W500 | 1961 |
| R26 | 265ci | 25 Inches | Dodge Truck | | 1961 |
| S25 | 251ci | 25 Inches | Dodge Truck | W300, WM300, D400, P400, S400, D500, S500, W500 | 1962 |
| S26 | 265ci | 25 Inches | Dodge Truck | | 1962 |
| T25 | 251ci | 25 inches | Dodge Truck | WM300 | 1963 |
| V25 | 251ci | 25 inches | Dodge Truck | WM300 | 1964 |
| A25 | 251ci | 25 inches | Dodge Truck | WM300 | 1965 |
| B25 or B251 | 251ci | 25 inches | Dodge Truck | WM300 | 1966 |
| C25 | 251ci | 25 inches | Dodge Truck | WM300 | 1967 |